Nevada County Coalition of Firewise Communities
The Coalition of Firewise Communities is composed of representatives from each of our Firewise Communities that have been working hard in their neighborhoods to promote safe practices in a dangerous wildfire environment. We are an all-volunteer organization with no dues and no budget. As part of a well-respected national movement, our individual Firewise Communities are certified through, and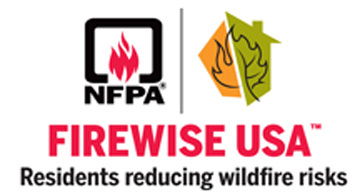 supported by, the Fire Safe Council of Nevada County.
The Coalition was created to bring together, on a monthly basis, individual FWCs, both certified and those "in training" (not yet NFPA-certified), to share ideas and information with each other and to amplify the county-wide effort to educate residents on wildfire preparedness.
FORM OF ORGANIZATION: The Coalition is an unincorporated nonprofit association as defined by California Corporations Code Section 18020(a).
MISSION: The Coalition promotes fire safety through advocacy, education, and community involvement with other stakeholders interested in working toward stronger fire safety practices.
GOAL: To support the formation and functioning of neighborhood-based Firewise communities through information-sharing and collaborative problem-solving, in coordination with key public and private Nevada County organizations, in the recognition that fire is everyone's fight.
MEMBERSHIP:

All Nevada County residential communities certified as a "Firewise Community" under the NFPA's Firewise USA Program, plus those considered "in training" by the Fire Safe Council of Nevada County, are Members of the Coalition. Individual county residents may also join. "Joining" simply means getting on our mailing list. There are no dues.
Each member Firewise community (both NFPA-certified and in training) has one designated representative. If that representative cannot attend a meeting, another member of that community may fill in for him or her.
A member may terminate membership at any time by notifying the Coalition Chair in writing or by email.
Our regular meeting time is the first Tuesday of every month at 5:30 pm (unless re-scheduled due to holiday/weather).
Our normal meeting place is Esterly Hall (Nevada County Association of Realtors), 336 Crown Point Circle, Grass Valley, CA 95945. Our meetings are now held on Zoom until we can meet in person again. Join our mailing list to get the Zoom link information.
Officers
Chair - Scott Beesley
Vice Chair -
Secretary - Virginia Gompertz
Technical Support/Communications - Jeff Peach
---
By Laws
Coalition-Bylaws - Final Approved Mar2021.pdf
Coalition Creation - Press Release December 2017
Chair and Vice Chair Job Description - Coalition-Position-Descriptions.pdf
Join the Nevada County Coalition of Firewise Communities Email List - Stay Informed!