The Nevada County Coalition of Firewise Communities (the website where you are now) and the Fire Safe Council of Nevada County are two separate organizations. The Coalition's About Us page has information on our all-volunteer organization.
The Fire Safe Council of Nevada County is a public benefit, non-profit 501(c)(3) corporation with paid staff and a board of directors, formed in 1998 by citizens concerned about the very high potential for catastrophic wildfire in our communities and adjacent forestland.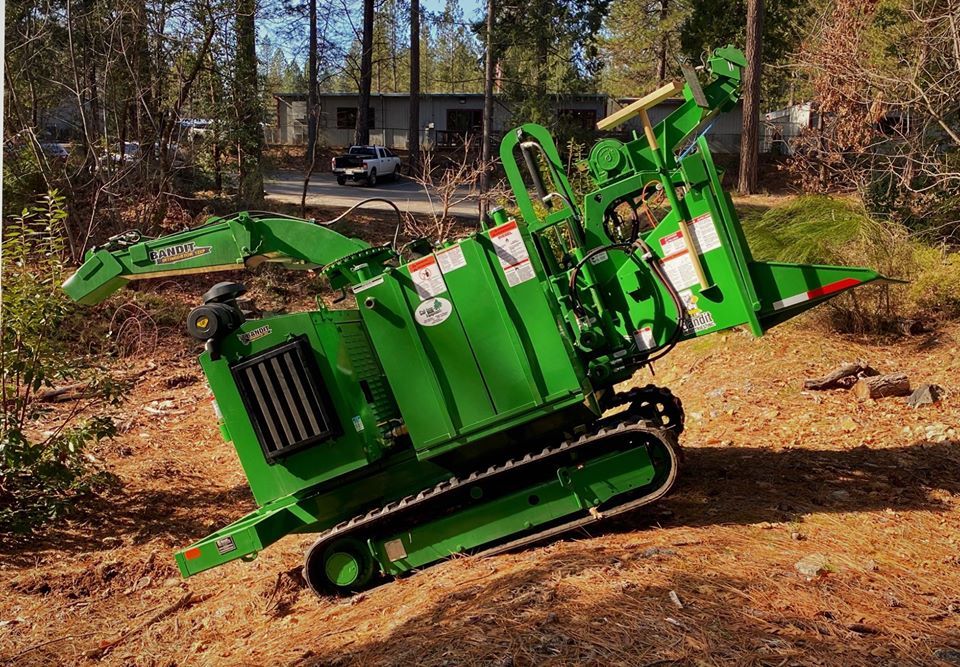 Track chipper available from Fire Safe CouncilThe Fire Safe Council supports and assists in the formation of individual Firewise Communities (FWCs), and manages the certification (and re-certification) of all FWCs through the National Fire Prevention Association (NFPA). It pays for the Coalition's Zoom account during the pandemic, and pays for the Coalition website.
Coalition meetings always have one or two representatives of the Fire Safe Council in attendance. The Coalition works together closely with the Council to advance fire safety efforts in Nevada County.
The Council's office has a wealth of literature from various fire agencies that will help homeowners on virtually any wild-fire related topic. They offer a chipping program, a Special Needs Assistance Program for low-income elderly and disabled, and other services.
Visit the Fire Safe Council website. The Council's phone number is (530) 272-1122, and their address is 143 B Spring Hill Drive, Suite 13, Grass Valley, CA 95945. Check their website for office hours. Park in the spaces marked with white letters "OCS" at the edge of the lot facing Spring Hill Drive. Many spaces directly in front of their office are marked/reserved for other businesses .